Covid Style Valentines Day | Date Night Ideas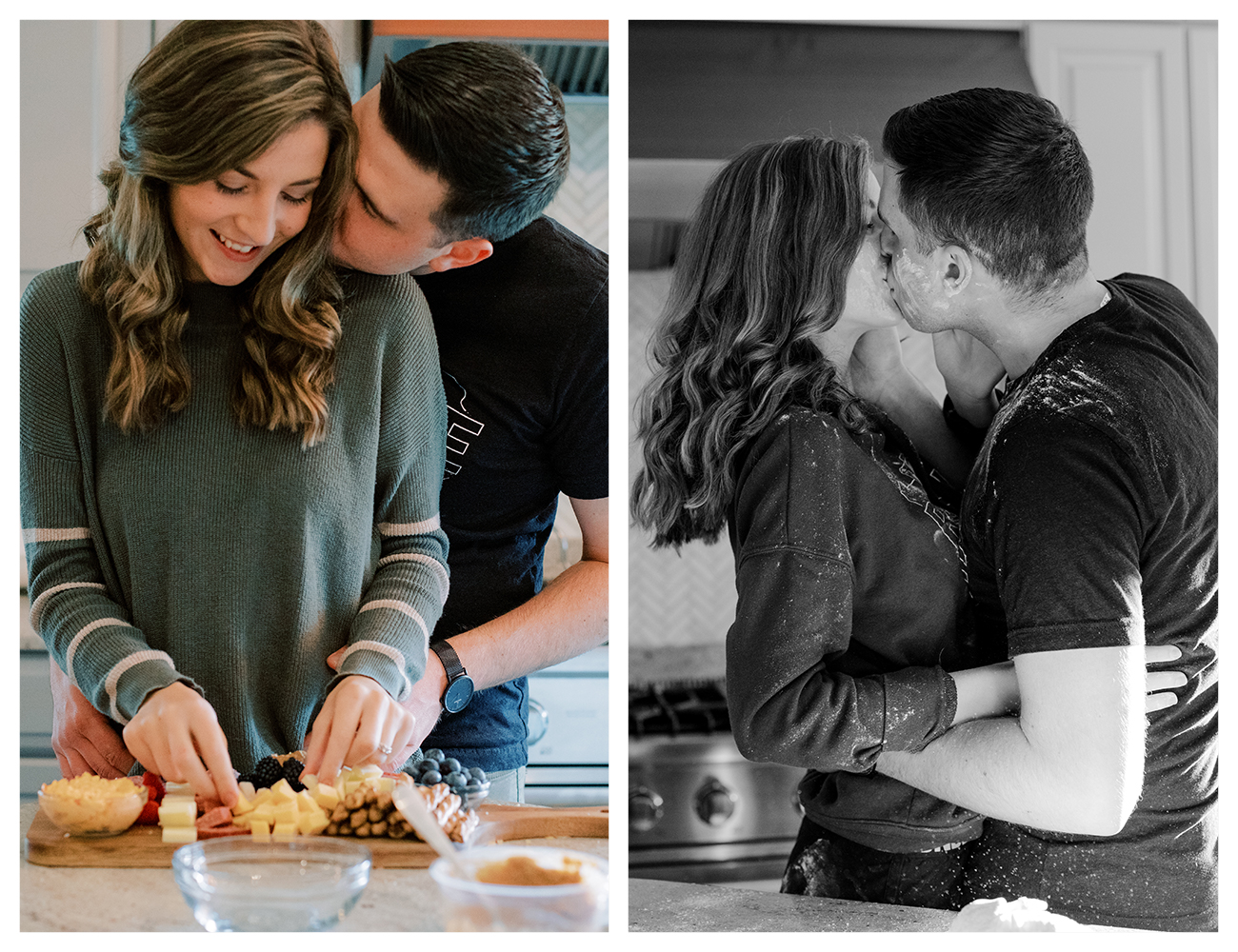 I love the month of February because I love Valentine's Day. I know, I know some of you may think it's a silly holiday, but I love any excuse to celebrate, especially when it includes something with my husband! Let's be real, this year, Valentine's Day is going to look different for many of us. Your V-day date night probably isn't going to include sitting in a restaurant or going to the movies. BUT, don't let that be your excuse for not celebrating.
SO, my husband and I sat down and wrote up 5 Covid-Style V-Day Date Night Ideas that you could easily do if you can't think of anything to do with covid restrictions OR if you're both homebodies and want to have a night in. 👩‍❤️‍💋‍👨
If you've been feeling stuck on what to do for your love, search no longer, and thank us later 😉
Take out Candlelight Dinner 🕯
Just because you can't sit in a restaurant, doesn't mean you can't enjoy your favorite local restaurant! Grab take out, your favorite bottle of wine, and some candles to make your own romantic dinner!
2. Movie Night Basket 🍿
If you're anything like my husband, you realllllly miss going to the movies. But with a movie night in basket, you could set up your own home movie theater! Rent your favorite movie, get a cozy blanket, popcorn, snacks, obviously some good wine, and BOOM. You don't have to worry about getting caught sneaking in your favorite snacks. 😉
3. Spa Night Basket 🧼
This one is directed a little more for the guys to do for their s/o. Buy some bath salts, bath bombs, bubbles, scented candles, wine (how is this one showing up in every list!?), lotion, face mask, and a fuzzy bathrobe. This will give the perfect relaxing evening (Trust me, she'll love it). 🛁
4. Make Dinner Together 👨🏼‍🍳
This is one that Hans and I do often! We love grocery shopping to get what we need and then cook a fancy dinner in. This is a good one if you're on a budget, cooking in usually is way cheaper and in our opinion, way more fun! Choose a meal, write a grocery list, make a date night grocery trip, and then turn on some romantic music, pour some wine (well, are you surprised?), and cook the whole meal together.
5. Last, but not least, bring your s/o breakfast in bed. 🛌 ☕️
There are very few people in this world that wouldn't want to wake up to their love bringing them a warm breakfast with juice or coffee. Snuggling in bed while eating breakfast is really the best way to start the day!
So there's our list! Obviously, you could stick to the ol' classic, chocolate and flowers, BUT if you want to do something a little extra, we guarantee these date night in ideas will be a hit! 💕
Happy early Valentine's Day, friends!
Xoxo,
Lydia Bea